Could co-working become the new work norm?
7th July 2017
In recent years, co-working spaces have seen a slow and steady increase in popularity. Seen by many as a 'casualisation' of the conventional workplace, the co-working model has nonetheless continued to permeate businesses across the nation, with some suggesting the model brings about "relief from the emotional demands of the corporate office". But what is co-working and how might it affect you? We explore this rising trend.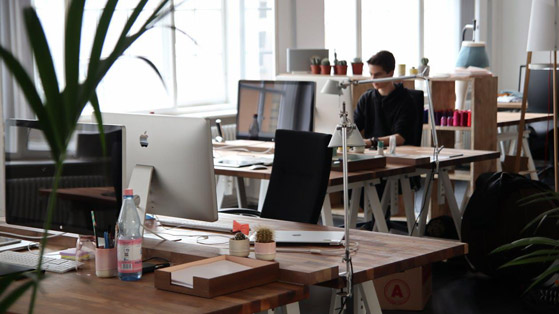 What is a co-working space?
Put simply, a co-working space is just a shared office space which tends to be shared between many SMEs, entrepreneurs and freelancers. You might already be familiar with this model; the UK boasts one of the largest developed co-working markets in the world.
So could it be the new office norm? Official statistics show that the current co-working market is worth a whopping £15.75 billion globally, and that's before you consider the emerging markets taking shape across the world. In fact, Small Business Labs has predicted that the number of people renting co-working spaces will take a leap from just under one million up to four million by 2020. With numbers like these, it's interesting to look at just what benefits co-working brings with it.
The benefits
71% of workers say they feel more creative in a co-working space and 68% say they are able to focus more. A massive increase in creativity and productivity is a key business benefit when it comes to getting the most from employees whilst ensuring their wellbeing.
Flexibility is another huge benefit to co-working spaces, and is something much appreciated by freelancers and small businesses in particular. There is flexibility to expand or downsize as the business requires, and this makes for a cost-effective solution, with flexible short-term contracts being a major draw for businesses operating on tighter budgets.
Professionals also benefit from the contact with a changing set of individuals and teams on a monthly basis. For freelancers in particular, isolation can be an issue, which co-working spaces alleviate. On top of this, co-working spaces tend to be more collaborative, leading to more creative work and the opportunity for added inspiration. This collaboration is also important for networking, and can provide smaller businesses with the resources they may need in the future.
What does all this mean for businesses?
It doesn't look like there is any stopping the co-working office model, and with so many benefits both for accountants and for businesses, the trend is shaping the way we design offices, generate ideas and approach the traditional 'desk job.'
Co-working spaces are becoming more and more popular with SMEs, entrepreneurs and freelancing accountants purely because they empower businesses' to grow and people to work on their own terms. As millennials become the driving members of the workforce, this model is only set to grow and may very well change the notion of employment as we know it.
As experts in placing candidates in the right workplaces for them, we specialise in meeting business requirements with the needs of employees. For an in-depth and confidential consultation about jobs and careers in finance please contact Nigel Jeyes on 01273 229499 or email nigel@graftonbanks.co.uk.
Extend Your Reach with Grafton Banks Advertising Options
Welcome to our newest team member, Matthew Roff