INTRODUCING: Managing Consultant, Ryan Leggett
4th September 2019
We are delighted to announce the appointment of Ryan Leggett as a Managing Consultant of Grafton Banks Finance's newest office based in West Malling. Ryan joins us with over three years' experience from an international recruitment consultancy, where he specialised in the placement of qualified accountants across Kent. Ryan joins Grafton Banks Finance to lead the Kent office as we expand into this region.
We asked Ryan to tell us more about his experience and the future he sees with Grafton Banks Finance.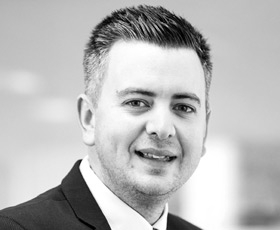 Can you give us an overview of your career so far?
After starting out as a personal banker and later qualifying as a mortgage adviser, I decided to move into recruitment for a role that had more interaction with people. For the last four years, I've built my career in accountancy recruitment for a leading global recruiter, and now Grafton Banks Finance, covering qualified roles in finance.
I gained a huge amount of experience in my previous company and learned a great deal about recruiting for the accountancy world. I was particularly successful in building strong relationships with clients and candidates and became a trusted and preferred supplier to a great deal of Kent businesses.
I was keen to take this experience and success to the next level and to work for a boutique recruiter who would allow me to become more strategic within the business.
I'd heard of Grafton Banks Finance as a competitor within the accountancy market, and their approach and reputation were attractive to me. We met to discuss building the Kent area of the business, with my experience at the forefront of the expansion. I knew right away that they were the right company for me; I'd been looking for a challenging yet professional work environment, and I liked the message that Grafton Banks Finance sent. They value individuals – whether clients, candidates or their own consultants.
What do you enjoy most about your role?
Grafton Banks Finance is a specialist boutique consultancy with a 15-strong team of expert recruiters. As we're all working towards the same goal, we're trusted to do a good job without the constraints of micro-management or rigid KPIs, which means we can focus on the job in hand. Everyone shares the values of providing a high quality of service to clients and candidates. The team are focussed on delivering the best service possible and the environment is professional whilst being rewards driven.
We like to do as much face-to-face communication as we can with both clients and candidates, making sure we understand both parties' requirements and motivators. There will be other competitor recruitment firms that are trying to cover the Kent and South East space from London or further, but in West Malling we have the office presence, local knowledge and accountancy recruitment experience, whilst being available to go out and meet people.
What's your vision for Grafton Banks Finance in Kent?
I'd like to see steady growth of the Kent office and envision having a team of dedicated consultants for each of the areas of qualified and part qualified finance, as well as public practice and transactional work, offering candidates on a permanent, contract and interim basis.
Grafton Banks Finance has the potential to be the leading recruiter in the Kent market. We have already had success in recruiting for SME as well as national businesses, and public practices across the county. We understand the needs and concerns that individuals have in the market and have the expertise to place individuals where the fit is right for both them and the business.
What do you enjoy doing outside of work?
Music is something that I'm really into – I try and get out to as much live music as possible. I'm also a big sports fan and very into football (supporting Ipswich Town FC) and cricket. I've recently become a Dad for the first time, and I enjoy spending time with my family.
If you'd like to discuss your requirements for placing qualified accountants in public practice or industry and commerce, you can contact Ryan directly on 01622 584 334 or email him at ryan@graftonbanks.co.uk.
Grafton Banks Finance opens third office in Kent
INTRODUCING: Managing Consultant, Matt Taylor