Yorkshire Three Peak Challenge: We did it!
10th September 2015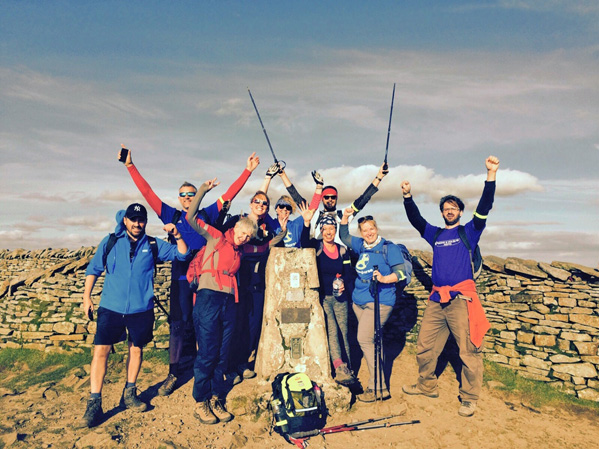 The Grafton Banks team swapped their suits for walking trousers and boots on Saturday 5 September to scale three Yorkshire Peaks for charity. After a tough day in the hills, we are proud to say that we completed the challenge in 11hrs 45mins!
We scaled Ingleborough, Pen-y-ghent, Whernside in this order for the children's charity, Rockinghorse, and the Woking and Sam Beare Hospices in perfect conditions surrounded by Yorkshire's beautiful landscape.
Out of 140 people completing the challenge on the day we were pleased to be congratulated by the organisers at the finish on the fact that we were the only group that day to start and finish together.
Rockinghorse children's charity has been supporting children and their families for nearly 50 years. It is the official fundraising arm for the Royal Alexandra Children's Hospital (the Alex). The charity also raises money for the Trevor Mann Baby Unit at the Royal Sussex County Hospital in Brighton and the Special Care Baby Unit in Haywards Heath, where they help create a suitable environment for children and raise money for life-saving medical equipment. Rockinghorse charity work plays an important role in caring for children and babies with long-term or life-threatening conditions at the hospital. Grafton Banks is proud to contribute to this vital community healthcare service.
Woking and Sam Beare Hospices in Woking and Weybridge have been providing palliative care and support for patients and their families living in Surrey since 1996. Their work is carried out in the hospice, nursing homes and in the homes of patients. Each facility relies on donations in excess of £8 million every year to keep their doors open, and our funding will help support its personal, holistic approach to a person's care which requires the time, skill and experience.
We have managed to raise a massive £3287.50 so far which will be put to good use by each charity. Half of this will help to purchase new equipment for the outdoor sensory garden for parents and families at The Alex, which provides a welcome escape and a natural environment away from the main building. The rest will pay for several days of patient care, a home visit by a Community Nurse Specialist or five counselling sessions at the Woking and Sam Beare hospices.
Grafton Banks would like to thank all our donors and supporters, every donation will go to this very good cause. There is still time to chip in donations on our Virgin Money Giving page, so please give what you can to exceed our target of £2,850.00 even further!
Investors Turn to Gold Amidst Stock Market Unrest
Top business benefits of using a specialist financial recruiter